Quality Associates offers a complete line of residential excavating services, from the initial groundbreaking to the last bit of paving. Clients will benefit from our years of experience in the commercial demolition and excavation industry. We deliver the same commitment to quality, dependability, value and job safety to fit the smaller-scale needs of our residential clients.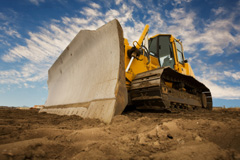 Since 1947 we have been in the business of reshaping the earths landscape. As a leader in demolition and excavation for commercial and industrial businesses for more than 60 years, imagine what we can do for you!
If it involves reshaping the earth in any way, Quality Associates can make it happen.
General digging for foundations, grading for drainage and new driveway installs or general earth removal for increased land usage, we have the right equipment, professional staff and proven experience to get your project done right.
We strive to complete our projects on-time, within the customers budget and all while maintaining a clean, safe, productive worksite with as little footprint into the surrounding landscape as possible. Your complete satisfaction is very important to us. Give us a call today to see what we can do for you.
Houses - Condominiums - Apartment Complexes - Sub Divisions - New Developments