Quality Associates Excavation Corp. has consistently delivered timely, reliable and experienced service to our commercial clients throughout Connecticut for over 60 years. Our reputation for dependability, quality, value and job safety has marked us as a leader in our industry.
We are capable of handling all phases of Site Reconstruction; from initial area demolition, excavation and level grading to utility/pipe installations, paving/curbing and light landscaping.
Quality Associates experienced staff operates with a fleet of specialized equipment and vehicles, bringing to the large or small jobsite only the right equipment needed.
Roadways - Commercial Lots - Industrial Lots - Undeveloped Land Development & More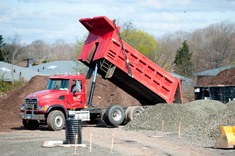 Whether you are a property manager, commercial developer, municipality or general construction contractor, Quality Associates can offer solutions to all of your paving and excavation needs for new and existing construction installations.
We specialize in all forms of commercial paving and excavation projects, as well as underground utilities installations and pipe work.
By staying current with the latest technology and continually educating ourselves in the best practices of design and implementation, we can ensure our clients are provided with the safest and most cost-effective site solutions for any project.